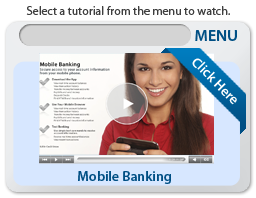 Are You Connected Yet?
Mobile banking is the ultimate on-demand service. Now you can access your account information and complete transactions anytime, anywhere.
Choose from the following options:
Download our mobile banking app to your smartphone for the best experience
Access online banking from any mobile web browser with Internet access
Or use text banking from any mobile device with text messaging capabilities (enrollment required)
Features
Mobile App
Mobile Web
Text Banking
Smartphone
iPhone/Android
Mobile browser
Mobile device with text messaging
View Account Balances
X
X
X
View Transaction History
X
X
X
Transfer Funds Between Accounts
X
X
Pay Bills with Mobile Bill Pay
X
X
Send Money to Anyone with Popmoney
X
X
Receive Account Alerts
X
X
X

Get Connected Today!

Mobile App
Download our app using your smartphone's app store – search for "Touchbanking". Then log on using the same credentials you use for the desktop version of online banking.


Mobile Web
Log in to the desktop version of online banking and sign up for Mobile Browser Banking. A text message will be sent to your phone with the web address. Bookmark this link for easy use.
Text Banking
Log on to the desktop version of online banking to enroll for text banking. After you are enrolled, simply text one of the commands to us at 59289. Your requested information will be sent by text within seconds. (See list of text commands below.)
Mobile Banking Features
Mobile Bill Pay
Pay your bills from anywhere right from your smartphone. Just select a payee from your existing list, enter the amount and payment date, and confirm. That's it! You can also view and modify pending payments. Mobile bill pay is available to all our online bill pay subscribers.
This service is not available with our text banking option.
Mobile Popmoney®
Popmoney® personal payment service is the fast and easy way to send money to family, friends or anyone you know. All you need is their email address or mobile phone number. Sending birthday money or splitting the dinner bill has never been easier – right from your smartphone.
Our standard Popmoney fees apply. This service is not available with our text banking option.
Alerts
Any smartphone with text capabilities can receive alerts about your account activity. Use alerts to know when your account balance reaches a certain level, or as soon as a paycheck is deposited. Mobile alerts can also help prevent fraud by monitoring your account activity. It delivers the information you need, when you need it, right to your smartphone.
Available for all smartphones that can send and receive text messages. Message and data rates may apply.
Text Banking
Using any mobile device with text capabilities you can send a text command to 59289, and receive the requested information within seconds. Message and data rates may apply from your mobile carrier. The most popular text commands include:
Text BAL to view all text banking available account balances
Text BAL + "account nickname" for the available balance for that account
Text HIST for recent transactions for your default account
Text HIST + "account nickname" to receive transaction history for another account
Text STOP to discontinue text banking alerts
Text HELP for assistance
Text CMD for a list of all text banking commands